God damn right it's a beautiful day!
I think I have said this on here before (and I've certainly said it off here) but I must say it again. The Eels are a great band. I recently bought their 2000 release Dasies of the Galaxy (pictured) to add to my collection of other Eels albums, including Electroshock Blues, Souljacker and Shootenanny.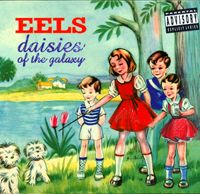 I'm about to go and buy their most recent full album, Blinking Lights and Other Revelations which E describes as "a love letter to life itself, in all its beautiful, horrible glory." If I'm feeling particularly wealthy when I get there I might even buy a live album or something from their back catalogue. You have got to love a band who welcome new fans as enthusiastically as the Eels. The first entry in their FAQ:
Q: I'm a new fan. Should I feel stupid for getting on board after inexplicably missing the first 7 or 8 glorious years of EELS music? A: Not at all. Right now is a great time to immerse yourself in EELS World. And it's easy to catch up with the past by learning, watching, and listening to things right here at EELStheband.com. You'll also find that most EELS fans are a warm and welcoming bunch. If any of them try to make you feel inadequate for being a newcomer, then they have missed the point and are not the fans they think they are. The EELS welcome mat is always out for any and all to wipe their muddy boots upon.
I've only really been aware of the excellence of their music for a few years now but I'm doing my best to catch up on the past.